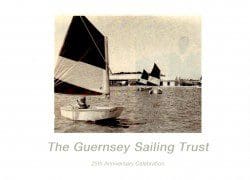 To mark that milestone the Trust has created a photo-book which is available on-line and covers the first 25 years of the Trust for £25. 
http://www.blurb.co.uk/b/4786572-the-guernsey-sailing-trust
Please go on-line and order your copy as a reminder of what you have supported and helped to build.  The book will make an ideal one for the coffee table and it highlights some of the major changes and developments of those 25 years. Approximately 20% of the cost will go to the Trust and help us to run for the next 25 Years. 
Guernsey .