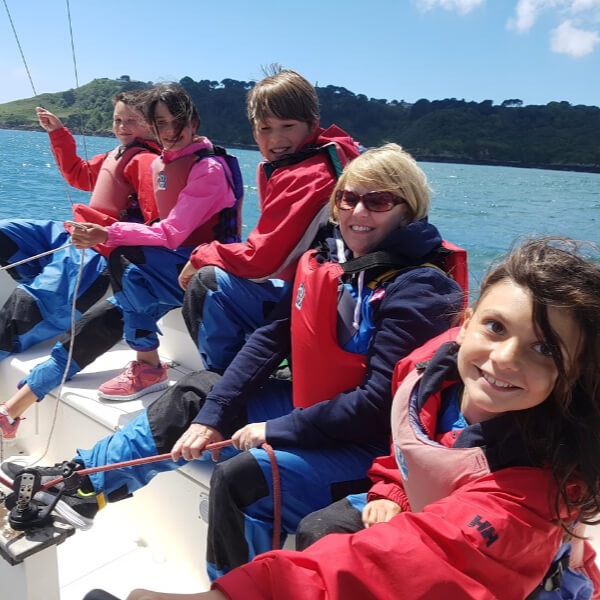 The GST was established in 1988 primarily to offer sailing to all school children in the Bailiwick and ensure the sport was accessible and inclusive to all.  Since then we have seen in the region of 25,000 school children come through the Trust.  Our aim is that every child on the island will have had an opportunity to try sailing through their school career. 
Sailing is so much more than just a sport.  It teaches confidence, independence and teamwork, creativity, communication and determination.  Life skills that will help students thrive in many different areas.
A study from the RYA OnBoard Programme and the Andrew Simpson Foundation (2019) found that 88% of children reported that trying sailing showed them that they could succeed at new things if they tried, 82% found improvements in the teamwork and 81% felt more confident in themselves.  In a world were employers are looking for resilience, communication and problem solving skills, allowing children to develop these skills through their education is incredibly important.  The full study can be viewed in the link below.
We offer sailing to children from Year 2 through to further education, teaching in a range of different boats and a range of different skills.
Primary School Sailing
Sailing on the model yacht pond is perfect for primary school children.  The students learn to sail the small Oppie dinghies, which can be sailed by one or two children.  Instructors are wading through the water with the sailors, making it extremely safe and a gentle introduction for more nervous students.  We have a range of sail sizes to account for different wind strengths.
If it is too cold or windy to go on the water, our classroom provides a safe warm place to learn skills surrounding sailing, such as wind awareness and knots.
Secondary School Sailing and Powerboating
Secondary school children can take advantage of our larger boats.  We have three Hawk20's which take 4 students and 1 instructor (plus a teacher if needed).  The students will learn to rig and sail these 20ft boats, working through the RYA Sailing Scheme.
We are also able to offer powerboat driving and take students through the RYA Powerboat Level 1 and possibly Level 2 syllabuses in our Rigid Inflatable Boats.  There is a strict ratio of 3 students to 1 instructor for these sessions.
If time permits, we can also run dinghy sailing sessions for secondary school students.  Students would learn to sail our single and double handed boats.  Due to the nature of the sessions and longer preparation and pack up times, a minimum of 2 hours is required. Perfect for activities weeks.
Inclusion Programme
Sailing is a very sensory experience and often suits children that find it difficult to concentrate and work in the classroom.  It can also offer a positive break from the social stresses that accompany school.
When learning to sail or powerboat, everyone is on a level playing field – background and academic skills do not matter. 
Students are able to gain professional qualifications in both sailing and powerboating to sit alongside those achieved at school.  
What to do now?
If you are interested in bringing a group to the sailing trust, whether for a one off session, regular sessions, inclusion groups or activities weeks, please contact Clare Chapple, who will be able to give you some more information.  Her contact details are:
clare@sailingtrust.org.gg
01481 710877
Clare Chapple
Clare is the Principal at the Sailing Trust and the Sports Development Officer.  Clare takes charge of most of the school groups that visit the trust, as well as everything that occurs on the water.  Clare is also a Race Coach Level 3 and offers race training courses to help sailors further develop their skills.